Massage Therapy (or Therapeutic Massage) is the scientific manipulation of the soft tissues of the body for the purpose of affecting that tissue to improve health and well-being.  It consists of hands-on techniques that include applying fixed or movable pressure, holding, and/or causing movement of, or to, the body.  Now matter how technical our modern definition is, massage has been around since the very beginning of human history.  A caveman who stubs his toe would have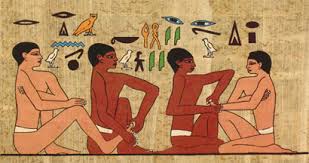 instinctively rubbed it to make it feel better! Massage appears in the ancient texts of the Egyptians, Greeks, and Romans in connection with health and athletic performance.  Today in the U.S., the term "massage therapist" is used for a person who has had formal training, licensing and/or certification in professional therapeutic massage.  (The terms "masseuse" or "masseur" now imply a non-professional but are still frequently used by the public.)
The Benefits of Massage Therapy
Relieve Chronic Muscle Tension, Spasm, and Pain
Increase Circulation, Lower Heart Rate and Blood Pressure
Stress Reduction and Relaxation
Promote Immune System Function and Healing
Enhance Athletic Performance
Prevent Injury
Increase Joint Flexibility and Range of Motion
Balance Energy Systems in the body
Facilitate Mind/Body Awareness
Maintain Overall Health and Wellness
Satisfy our Need for Touch in a touch-starved society
Reduce Cellulite
And More!
A Wide Variety of Massage Styles Are Available Including:
Swedish Massage is characterized by long, gliding strokes promoting relaxation and improving circulation, often used as a warm-up for deeper techniques.
Lymph Drainage utilizes gentle, rhythmic movements to facilitate removal of excess fluid & detoxification.  Can be used as early as 24 hours after surgery to improve healing and cosmetic results.
Deep Tissue involves deeper pressure into areas of pain/tension to release trigger points and restrictions.  Neuromuscular therapy and Myofascial Release are types of deep tissue techniques typically used for clinical and sports massage applications.  Get real therapy and great results with this specialty.
Ashiatsu incorporates a variety of techniques which are performed with the bare feet of the therapist.  This creates the ultimate deep pressure massage.
Hot Stone Massage utilizes smooth, ocean-polished stones that are heated and applied to the body to deliver the benefits of heat and massage to help tight muscles.  Please specify this treatment when scheduling.
Prenatal/Postnatal includes techniques which are safe, nurturing, yet can  effectively soothe discomforts.  Please specify this treatment so that specialized cushions will be available to ensure your comfort.
**Click on Types of Massage on the Home Page for MORE!
Whether you are seeking stress reduction, pain relief, or injury rehabilitation, Andrea will skillfully select and blend the techniques that best meet your goals/needs.  Massage is an excellent adjunct in the treatment of many medical conditions including:
Arthritis
Bursitis
Fibromyalgia
Anxiety
Asthma
Headaches/Migraines
Muscle strains & sprains
Low Back pain
Neck pain
Poor circulation/PAD
High Blood Pressure
Carpal tunnel syndrome
Repetitive stress injuries
Chronic Fatigue
Sleep disorders/insomnia
Depression
TMJ syndrome
Parkinson's
Cancer pain
Whiplash
Muscle cramps
Before/During Your Massage:
Please arrive about 10 minutes prior to the start time of your first session so that you can complete a brief health history form.  Or you can download it here Client Intake form, print it, and bring it with you.  For your comfort, please avoid eating large meals 1 hour prior to session, visit the rest room, and let the therapist know if you feel any discomfort during your treatment.
After Your Massage:
Drink plenty of water to flush out toxins.
Expect some soreness in the muscles if deeper techniques have been utilized.
Avoid strenuous exercise for about 24 hours following a massage treatment.
Allow your body time to adjust to being relaxed.
Get Regular Massage Sessions
Massage is most beneficial when utilized on a consistent basis, just like exercise.  Regular massages help to combat ever-increasing amounts of stress and the illnesses resulting from it.  Make a commitment to take care of yourself today!
The amount of Research that substantiates the use of massage for its health benefits is continually growing!
Current Massage Research Studies:
Knee osteoarthritis pain in the elderly can be reduced by massage therapy, yoga and tai chi: A review.
Field T.
Complement Ther Clin Pract. 2016 Feb;22:87-92. doi: 10.1016/j.ctcp.2016.01.001. Epub 2016 Jan 14. Review.
PMID: 26850812
Does touch massage facilitate recovery after stroke? A study protocol of a randomized controlled trial.
Lämås K, Häger C, Lindgren L, Wester P, Brulin C.
BMC Complement Altern Med. 2016 Feb 4;16(1):50. doi: 10.1186/s12906-016-1029-9.  PMID:26846253 Free PMC Article
The Effect of Massage With Lavender Oil on Restless Leg Syndrome in Hemodialysis Patients: A Randomized Controlled Trial.
Hashemi SH, Hajbagheri A, Aghajani M.
Nurs Midwifery Stud. 2015 Dec;4(4):e29617. doi: 10.17795/nmsjournal29617. Epub 2015 Dec 1.  PMID:26835466  Free PMC Article
Effect of electro-acupuncture, massage, mud, and sauna therapies in patient with rheumatoid arthritis.
Shetty GB, Mooventhan A, Anagha N.
J Ayurveda Integr Med. 2015 Oct-Dec;6(4):295-9. doi: 10.4103/0975-9476.172415.PMID:26834431  Free PMC Article
Abdominal massage for the alleviation of symptoms of constipation in people with Parkinson's: a randomised controlled pilot study.
McClurg D, Hagen S, Jamieson K, Dickinson L, Paul L, Cunnington A.
Age Ageing. 2016 Jan 29. pii: afw005. [Epub ahead of print] PMID:26826459
Systematic review of treatments for diabetic peripheral neuropathy.
Çakici N, Fakkel TM, van Neck JW, Verhagen AP, Coert JH.
Diabet Med. 2016 Jan 29. doi: 10.1111/dme.13083. [Epub ahead of print] PMID:26822889
The Effect of Abdominal Massage on Constipation and Quality of Life.
Turan N, Atabek Aşt T.
Gastroenterol Nurs. 2016 Jan-Feb;39(1):48-59. doi: 10.1097/SGA.0000000000000202. PMID:26825564
 Deep transverse friction massage for treating tendinitis.
Brosseau L, Casimiro L, Milne S, Robinson V, Shea B, Tugwell P, Wells G.Cochrane Database Syst Rev. 2002; (4):CD003528.
Manual therapy and exercise for adhesive capsulitis (frozen shoulder).
Page MJ, Green S, Kramer S, Johnston RV, McBain B, Chau M, Buchbinder R.Cochrane Database Syst Rev. 2014 Aug 26; 8:CD011275. Epub 2014 Aug 26.
Complementary and integrative healthcare for patients with mechanical low back pain in a U.S. hospital setting.
Rhee TG, Leininger BD, Ghildayal N, Evans RL, Dusek JA, Johnson PJ.
Complement Ther Med. 2016 Feb;24:7-12. doi: 10.1016/j.ctim.2015.11.002. Epub 2015 Nov 25. PMID:26860795
Comparison of manual therapy and exercise therapy for postural hyperkyphosis: A randomized clinical trial.
Kamali F PhD, Shirazi SA PhD Cand, Ebrahimi S PhD Cand, Mirshamsi M MSc, Ghanbari A PhD.
Physiother Theory Pract. 2016 Feb 10:1-6. [Epub ahead of print] PMID:26863146
Systematic review of treatments for diabetic peripheral neuropathy.
Çakici N, Fakkel TM, van Neck JW, Verhagen AP, Coert JH.
Diabet Med. 2016 Jan 29. doi: 10.1111/dme.13083. [Epub ahead of print] PMID:26822889
Manual therapy as an effective treatment for fibrosis in a rat model of upper extremity overuse injury.
Bove GM, Harris MY, Zhao H, Barbe MF.
J Neurol Sci. 2016 Feb 15;361:168-80. doi: 10.1016/j.jns.2015.12.029. Epub 2015 Dec 24. PMID:26810536
Adelaida María Castro-Sánchez, Carmen Moreno-Lorenzo, Guillermo A. Matarán-Peñarrocha, Belen Feriche-Fernández-Castanys, Genoveva Granados-Gámez, and José Manuel Quesada-Rubio, "Connective Tissue Reflex Massage for Type 2 Diabetic Patients with Peripheral Arterial Disease: Randomized Controlled Trial," Evidence-Based Complementary and Alternative Medicine, vol. 2011, Article ID 804321, 12 pages, 2011. doi:10.1093/ecam/nep171