Massage Therapy (or Therapeutic Massage) is the scientific manipulation of the soft tissues of the body for the purpose of affecting that tissue to improve health and well-being.  It consists of hands-on techniques that include applying fixed or movable pressure, holding, and/or causing movement of, or to, the body.  Now matter how technical our modern definition is – Massage has been around since the very beginning.  A caveman who stubs his toe would have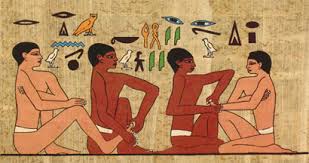 instinctively rubbed it to make it feel better! Massage appears in the ancient texts of the Egyptians, Greeks, and Romans in connection with health and athletic performance.  Today in the U.S., the term massage therapist is used for a person who has had formal training, licensing and/or certification in professional therapeutic massage.  (The terms Masseuse or Masseur now imply a non-professional but are still frequently used by the public.)
Manual therapy is defined by the physical therapy profession as a specific hands-on approach including, but not limited to, manipulation/mobilization techniques, used by a PT to diagnose and treat soft tissues and joint structures for the purpose of modulating pain; increasing range of motion (ROM); reducing or eliminating soft tissue inflammation; inducing relaxation; improving contractile and non-contractile tissue repair, extensibility, and/or stability; facilitating movement; and improving function.  Basically, the term Manual Therapy includes massage as well as other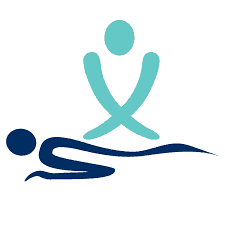 techniques such as Joint Mobilization, Spinal Manipulation, Chest Physical Therapy, and Dry Needling.  As a PT and massage therapist, Andrea has a larger 'toolbox' of manual therapy techniques.  Many other professions utilize manual therapy including Chiropractors, osteopathic physicians, physiatrists, acupuncturists, and occupational and respiratory therapists.  Both massage and manual therapy are part of the enormous category of Bodywork – methods of body treatments that also include energy work.
A Wide Variety of Massage Styles Are Available Including:
Swedish Massage is characterized by long, gliding strokes promoting relaxation and improving circulation, often used as a warm-up for deeper techniques.
Lymph Drainage  utilizes gentle, rhythmic movements to facilitate removal of excess fluid & detoxification.  Can be used as early as 24 hours after surgery to improve healing and cosmetic results.
Deep Tissue involves deeper pressure into areas of pain/tension to release trigger points and restrictions.  Neuromuscular therapy and Myofascial Release are types of deep tissue techniques typically used for clinical and sports massage applications.  Get real therapy and great results with this specialty.
Ashiatsu incorporates a variety of techniques which are performed with the bare feet of the therapist.  This creates the ultimate deep pressure massage.
Hot Stone Massage utilizes smooth, ocean-polished stones that are heated and applied to the body to deliver the benefits of heat and massage to help tight muscles.  Please specify this treatment when scheduling.
Prenatal/Postnatal  includes techniques which are safe, nurturing, yet can  effectively soothe discomforts.  Please specify this treatment so that specialized cushions will be available to ensure your comfort.
**Click on Types of Massage of Our Home Page for MORE!
Whether you are seeking stress reduction,  pain relief, or injury rehabilitation, Andrea will skillfully select and blend the techniques that best meet your goals/needs.  Massage is an excellent adjunct  in the treatment  of many medical  conditions including:
Arthritis
Fibromyalgia
Anxiety
Headaches/Migraines
Bursitis
Muscle strains & sprains
Back & neck pain
Poor circulation
Carpal tunnel syndrome
Repetitive stress injuries
Chronic Fatigue Sleep disorders/insomnia
Depression
TMJ syndrome
*Refer to the Benefits of Massage page for more info.
Before/During Your Massage:
Please arrive about 10 minutes prior to the start time of your first session so that you can complete a brief health history form.  Or you can download it here Client Intake form, print it, and bring it with you.  For your comfort, please avoid eating large meals 1 hour prior to session, visit the rest room, and let the therapist know if you feel any discomfort during your treatment.
After Your Massage:
Drink plenty of water to flush out toxins.
Expect a little soreness in the muscles if deeper techniques have been utilized.
Avoid strenuous exercise immediately following a massage treatment.
Allow your body time to adjust to being relaxed.